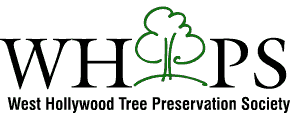 ​
HERITAGE TREES
We continue to be closely involved with the City of West Hollywood Heritage tree program.
CONTINUING EDUCATIONAL / ENRICHMENT
WHTPS members will be attending, as California ReLEAF members, the California Urban and Community Forests Conference in August, 2016. Urban forest and community groups from all over California will be sharing resources and ideas.
WHTPS NEWSLETTER TO RETURN!
Members are excited to once again produce a Newsletter, aimed to be both fun and informative. It will be available on the website, and to be distributed to all members by email.
​

​

SAVE PLUMMER PARK!
About
Plummer Park is to be bulldozed for a $41.3Million DEMOLITION including the TREES!
Description
PHASE I includes the destruction of 54 trees for an underground parking lot the construction of which will cause the chopping down of every tree from Santa Monica Blvd. all the way north to the tennis courts. It will also necessitate demolishing Great Hall/Long Hall; the only 2 WPA structures in WeHo that has housed the Audubon Society for 70 years...they have been evicted already. Historic Fies...ta Hall, with architecture of Spanish Colonial Revival , will be decimated and an ultra modern re-design of the fascade worthy of the Jetsons will replace it.
Tearing down Great Hall / Long Hall and cutting down heritage trees (some over a 100 years old), hardly seems worth the net of 69 new parking place and only 60 sq. yds of green space, even with additional landscaping. Then there's the interactive water feature, built of concrete and using water and electricity...hardly seems "green". They will renovate the pre-school facility, however it will add only room for 6 more children and it is a concrete box. The kids will have to play on the roof surrounded by 8 ft. concrete walls. Construction for Phase I is slated to begin January 2012 and be done in 22 mos. if they finish on time. The majority of the park will be fenced off and closed for those 22 mos. STOP the project NOW! Call Mayor Duran and all the Councilmembers and tell them you oppose this project. 323-838-6460